With Eventdrive, you can add a UTM token to your links to collect data.
What is a UTM token?
UTM stands for "Urchin Tracking Module." It's a system used to track and analyze the effectiveness of online marketing campaigns, specifically for tracking the source of website traffic. UTM parameters are added to URLs (web addresses) to provide additional information to analytics tools about where the traffic is coming from, what marketing campaings are driving that traffic, and how users are interacting with the website.
Example :
Link before UTM token :

Same link, after UTM token :

Most common use case :
Creating several UTM tokens for a single link
Sharing links on different platforms and social medias sites
Gathering information: how many people clicked on the link and from which social network.
Preparing your event to use UTM
You will need to carry out an initial test before sending out your UTM campaign in order to create the columns linked to the UTM tokens. To do this, follow these steps:
Create a registration form

⚠️ To create a UTM link, the registration form link must be public and must not be a shortened link.

Go to a UTM Builder to generate your token in your registration form link.
Register from the UTM link to create the following columns in your list of attendees:


What data can I collect?
From your list of attendees, you can modify the view to add the following options: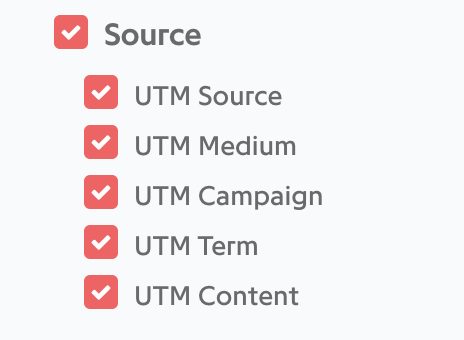 1. utm_source: This parameter identifies the source of the traffic, such as a specific website, newsletter, or social media platform. For example, "utm_source=facebook" indicates that the traffic is coming from Facebook.
2. utm_medium: This parameter specifies the medium or type of marketing effort that brought the user to the site, such as "email," "cpc" (cost-per-click), "organic," or "social."
3. utm_campaign: This parameter is used to differentiate between different marketing campaigns or promotions. It helps you track the effectiveness of individual campaigns.
4. utm_term: This parameter is often used for tracking keywords in paid search campaigns. It indicates the specific keywords that triggered the ad or link.
5. utm_content: This parameter can be used to differentiate different pieces of content within the same campaign. For instance, if you're running an A/B test with two different ad variations, you can use this parameter to distinguish between them.