This article helps you understand how you can test your emails so you can make sure everything is ok before sending your mailing campaign.
On the admin tool menu, go to the "INVITE" tab and then "Mailing", in order to test your emails. 
Testing your email without a registration link
Step 1
Go to "INVITE", "Mailing", then "email". Edit your email by clicking on the grey gear wheel icon on the right.
Step 2
At the bottom-right of the web page you will see several options. Select "Send a test email to".
Make sure the email field is filled out with your email or the email of the person to whom you want this test to be sent.
Then click "Send".

Step 3
If you want to send this test email to an attendee group, click on "Send mail to" and select a group. Then click "Send"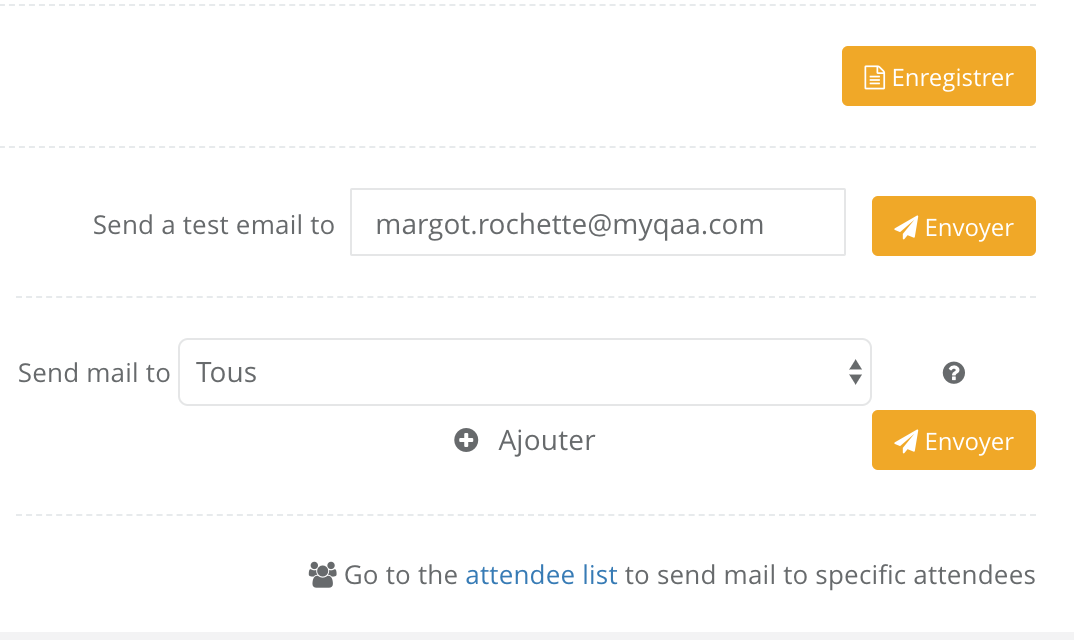 By following this testing process, all links will be disabled.
Testing your email with a registration link
Step 1
If you have configured the special links to a registration form, you can also test them.
When you send this test email, you will track the real user experience.
There is only one difference between the real sending and the test sending : the subscription to the registration form.
You cannot register with a test email, thus, the below message will be displayed :

If you want the real user experience, this article can help you : How to send a communication or invitation email?
Advice
It's recommended to test all your emails and links attached to them so you can make sure the attendees' experience is maximized.
You can create a group of participants named "Test" to send the test e-mail to the whole group. All you need to do is select the test group created in the drop-down menu of the "Send mail to" field and click "Send". For more information, see How to Create a Participant Group?