With Eventdrive, you can create and share your events with a wide audience.
Public is the status to be used for an event that is open to all.
By default, all content is available to users, with no access restrictions.
Website and registration form
The website and registration form(s) are accessible to everyone, unless SSO is activated for your event. In that case, an error page will be displayed (error 403).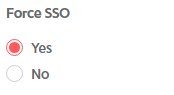 Access to registrations can however be restricted, to do so, go in the parameters of the form and select the following options:

Display this registration form to any attendee on the list
Prohibits access to people who are not part of the event's attendee list.
Display this registration form only to the following attendee groups
Allows you to select one or more groups to give them access to the form.
Live streaming
Anyone can access the live stream without log in.
To access a live stream as a presenter or moderator, the associated code will be requested.
Application
⚠️ The URLs of your web application cannot be modified once the event status has been switched to public.
You can access the application without logging in, but you will require to do so in order to interact.
If you have a multi-event app, the event will be visible to everyone.