Some corporate events allow participants to bring a guest. The "Plus One" feature in Eventdrive allows you to obtain information from additional guests to help you with your event logistics and also fine tune your event performance and reporting.
How do I add a plus one option to my registration form?
Step 1 :
Go to the tab 'INVITE' then go to 'Registration Form'.
Step 2 :
Go directly to your form's Settings tab.
Below the custom messages, there is an option to add plus ones per participant. In the field, "Number of plus ones that can be added by attendees" insert a fixed number. This will be the maximum number of plus ones allowed per attendee.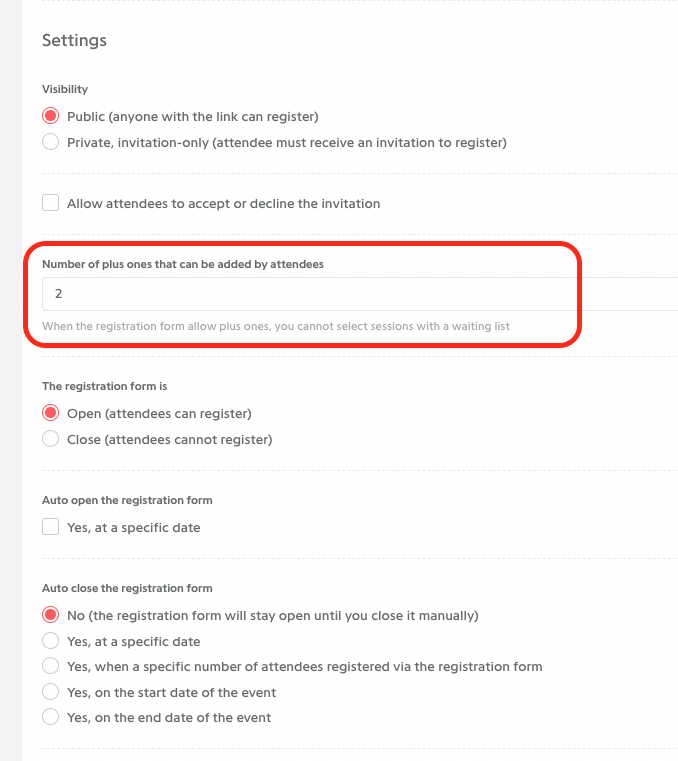 Step 3 :
Go back to the your registration form to add your registration form questions to obtain data from attendees. For each question asked, you will be able to choose if this question applies to your main guest, their plus one(s) or both.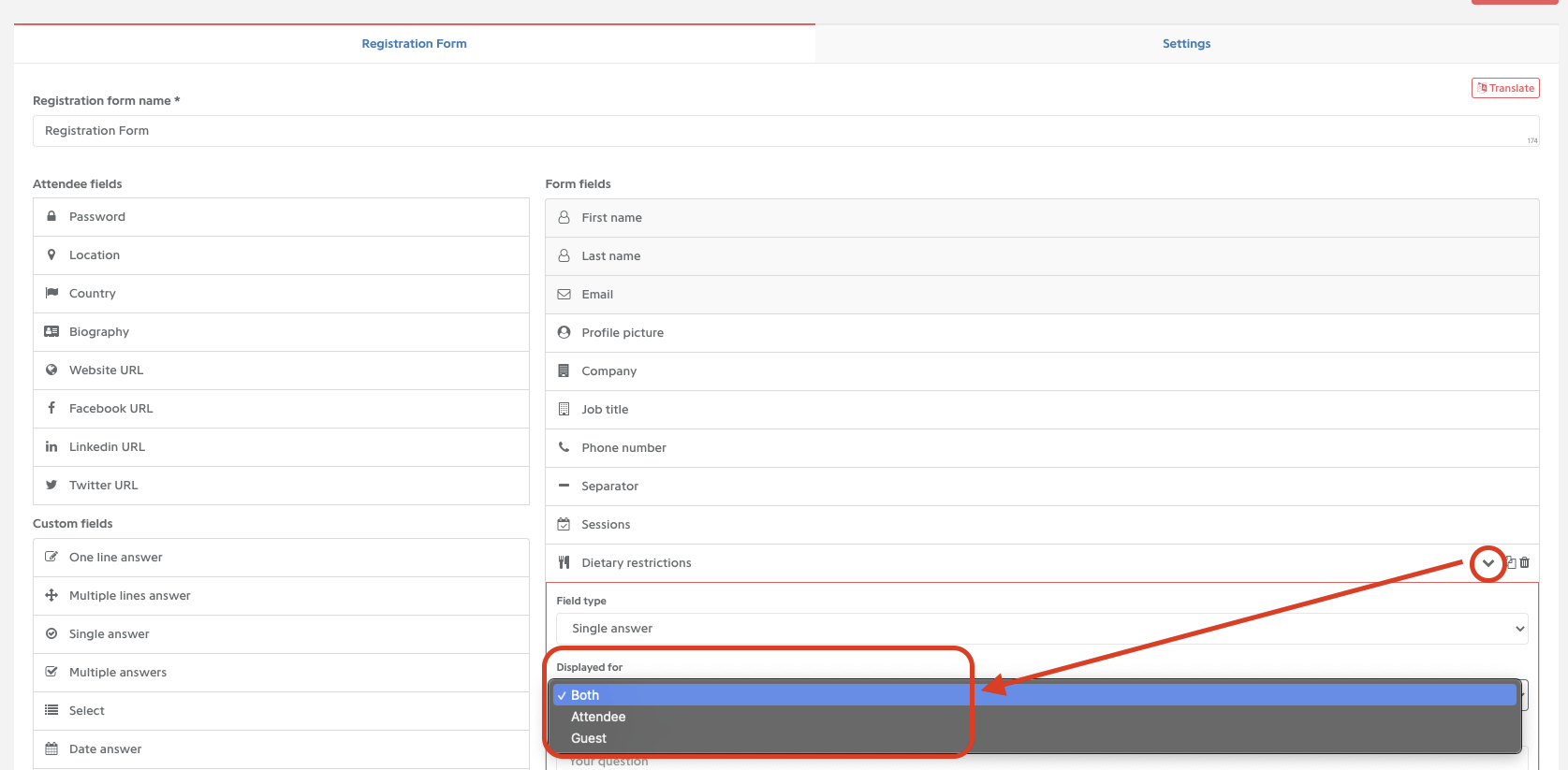 Step 4 :
Save your registration form and you are ready to send it to your guests.
Nota bene:
The email address is only mandatory for the main guest. It is an optional field for plus ones. A unique email address will automatically be populated to track plus ones since an email is one of the three required fields per attendee (First name, last name, and email). This will allow your guests to bring a guest that doesn't necessarily have an email address.
Where and what information will I collect from plus ones?
All plus ones are counted as a participant and will appear in your attendee list.
In order for you to be able to identify and track them, both main guests and plus ones will be linked together.
Here is how to see this information to see this information:
Step 1 :
Go to the tab named 'INVITE' and then to the section named 'Attendees'.
Step 2 :
In the "Views" section, you have the possibility to choose those used for plus ones. Here are their names and the information displayed:
"Plus One Of": The name of the main guest who is bringing this specific plus one with his email.
"Plus Ones": The first names of the people this participant will bring to your event with his email.
Step 3 :
By saving your changes, you will be able to see these columns appear in your attendee listing.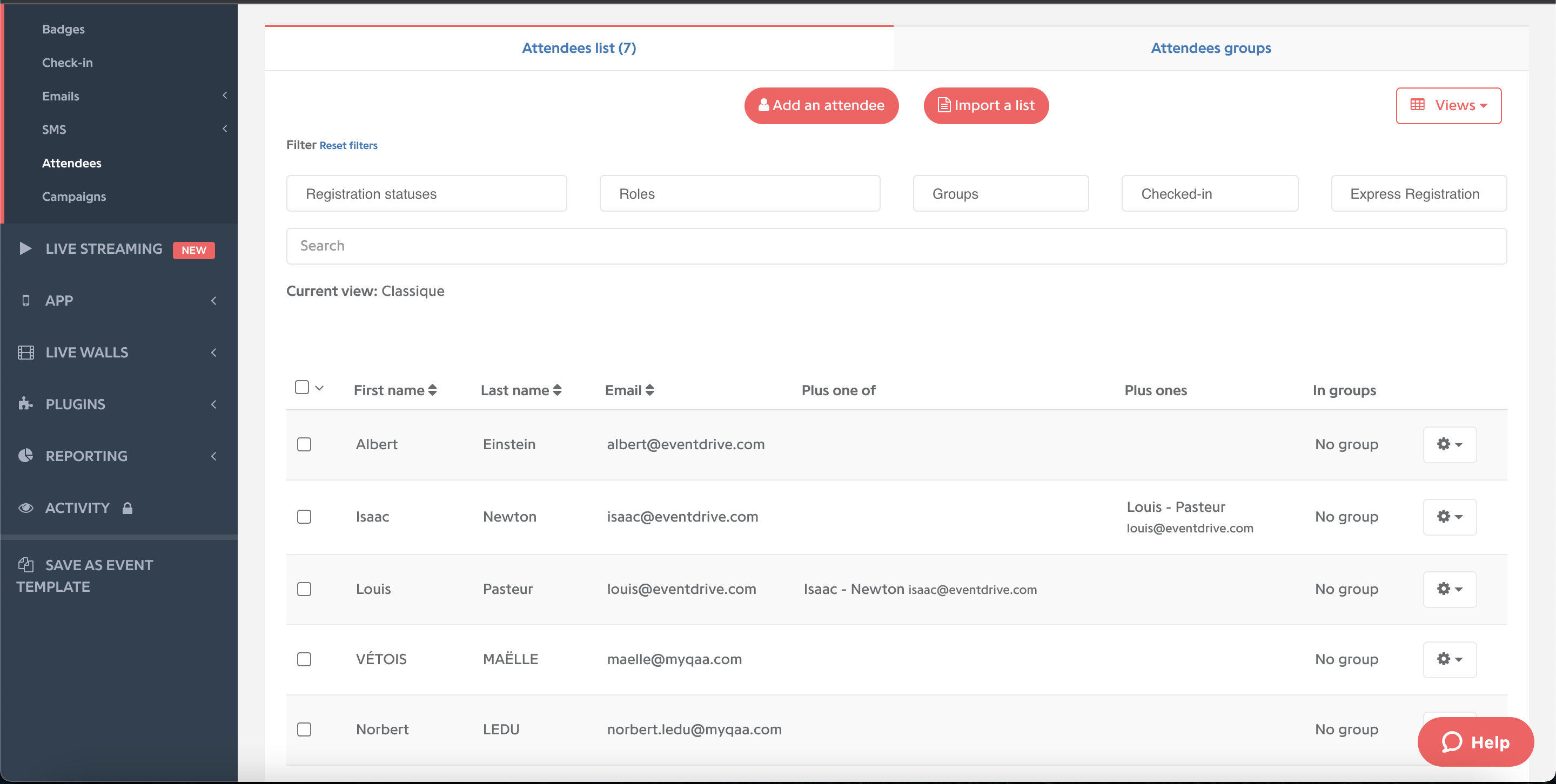 Remark:
You can export this information into an Excel file at the bottom of your attendee list.
When there is no email address for the main participant's companion (the person who filled out the form), the main participant will receive two emails (automatic, confirmation, campaign) on his email box: his own, and that of his companion.
New!
From now on, when you are a companion, you will have the same sessions as the main person pre-ticked.
This new feature will allow you to see more clearly in which session the main person is registered and by default to be registered in the same session as him.
You will still have the choice to check or uncheck the sessions of your choice.