With Eventdrive, you can manage your waiting room.

The SAS or presenter waiting room(s) can be used to create a private live environment.
Presenters are therefore out of sight to test their equipment.
Step 1
The presenter must first log in to Live with their presenter credentials.
Step 2
Once on the Live, you will see a sticker at the top of the page announcing that you are not on the Live.



Use this mode to perform your tests.
5min before Live starts, a notification appears at the top right of your window to tell you how much time is left before it starts.


To switch to Live move the mouse over this red button to see the two different modes: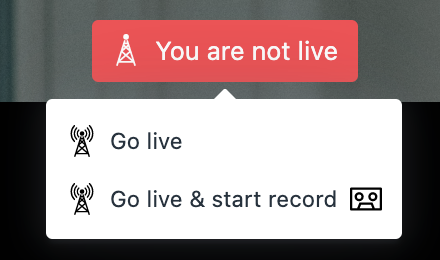 Start Live: after clicking you will be live and in full view of everyone.
Start live and record: after clicking you will be live and in full view. It will be automatically recorded and you will be able to find it in your recordings on the platform.

To quit the live, just click again on this green button and click on the option "Stop live".