You are the presenter of the virtual event and would like to know how to access Live? It's this way!
First of all, find the Live link that you received via a communication made by the Event Manager or, if you have access to the Eventdrive platform, via Live Streaming in the menu on the left.
Once you have the link, click on it. This will take you to the main Live page. Then click on "Are you a presenter?" that can be found at the bottom of the login.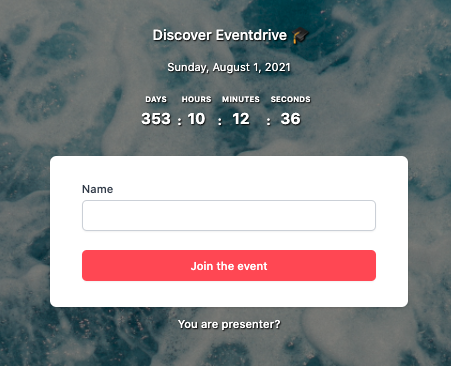 You will be redirected to the presenter interface. Fill in your Name and/or First name. They will be visible to the participants.
Also enter your presenter code. This was provided to you by the Event Manager, otherwise do not hesitate to ask for it. If you have access to the Eventdrive back office, you can retrieve it in LIVE STREAMING > Settings. Here you can copy it directly to the clipboard to paste on the login screen.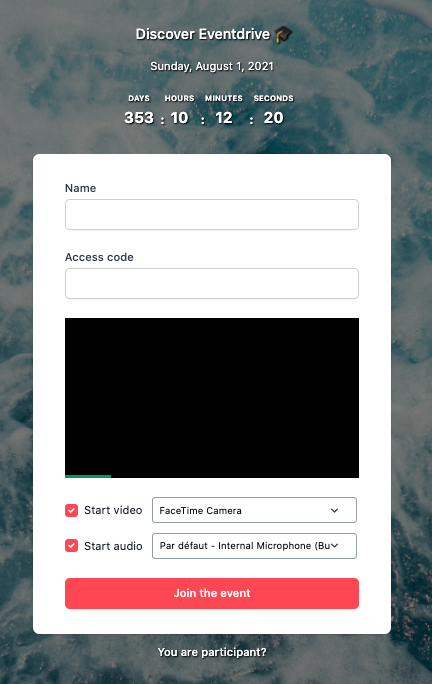 You can then decide to start the video and audio directly if you wish.
Then click on "Join the event".
Once on the Live stream, you see:
In the center your camera with all presenter options below it.
On the right is the Participant Chat to see any questions or comments from the participants.
On the top right the number of people connected to the Live stream. By hovering the mouse over the number of people online you can see the names of your participants.
In the top center the name of the event and the date.
The presenter's options

You have several buttons at your disposal, from left to right:
The camera, to activate or deactivate your webcam/camera feed. Your participants won't see you once your camera is deactivated;
The microphone, to activate or deactivate your audio. Your participants can no longer hear you once your microphone is deactivated;
The Screen, to start screen sharing. To stop screen sharing click the blue "Stop sharing" button at the bottom;
The Record button, to allow you to record part or all of your live event. You can stop it whenever you want. It will automatically be saved in LIVE STREAMING > Recordings;
The Arrow Keys, to bring your screen to full screen;
The Output, to exit the live event.